Hey there, Just thought I would share this build with you guys. It's been pretty popular recently and capable of MASSIVE dps in both normal and hard mode.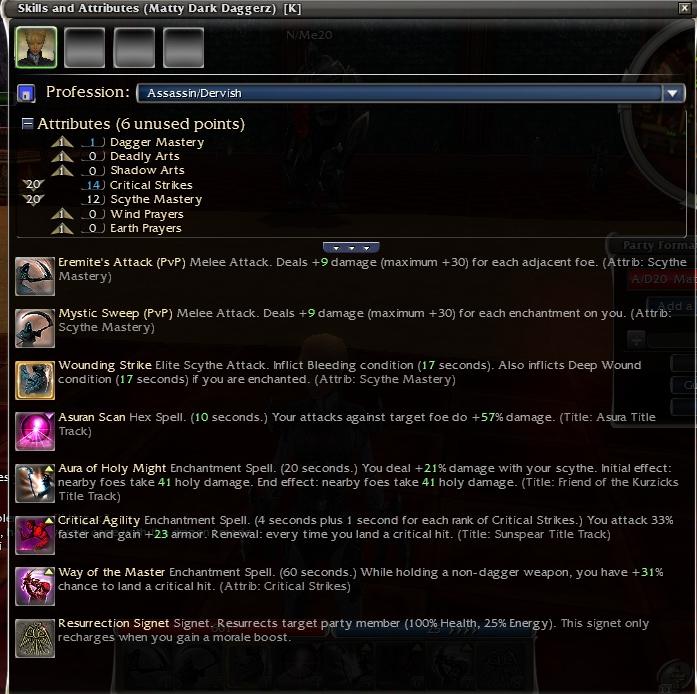 Equipment
: A q9-12 Scythe with a "
Guided By Fate" inscription (
15% while enchanted),
Sundering or Zealous scythe snathe
although you shouldn't need the energy from zealous, and a
+30hp
scythe grip.
70 al armor
with a +1
Critical Strikes
headpeice and rune, The insignias can vary from
Survivor
to
Brawlers
but it's really down to personal preferance.
Build usage:
Pre-cast your enchantments before aggro then look for crowds of enemies and spam your combo on them, most mobs won't be standing too long with your high damage output.
Heros/other players with
Splinter weapon
and
Great dwarf weapon
synergize very well with this build.
Variant:
The build is pretty flexible, you can change your elite for
Reapers Sweep
for more dps, but you will lose the advantage of an uncondtional deep wound covered with bleeding. You can also lose res sig for
Mystic Regeneration
and lose 2 points from critical strikes to insert into earth prayers for more survivability.
Counters :
Heavy enchantment removal, On hit hexes such as Spiteful Spirit, Empathy, Insidious Parascite and visions of regret etc.
Notes:
With all your enchantments plus asuran scan you can crit over 250 damage versus most hard and normal mode creatures, this build is also Extremely effective versus undead creatures because of Aura of holy might (this isn't mentioned in the skill description but it does indeed convert your damage to holy damage)
I hope you enjoy using this build and feel free to ask me any questions about usage etc.
Dark.